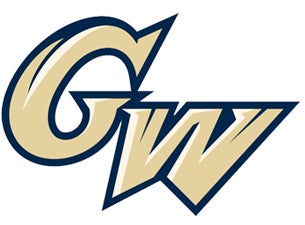 On Friday, 22nd Street will be bustling under the flourescent blue light emanating from the Charles E. Smith Center. That's right, folks, GW Colonials basketball is coming back to the Nation's Capital. Barbecue will be sizzling, the beer will be flowing, and the seats will be packed.
Last year, Foggy Bottom hoops had a resurgence of attention. The Colonials finished the season 3rd in the Atlantic 10 Conference with a 24-9 record overall and an 11-5 record in the conference, snagged a revenge win against UMass in the A-10 playoffs, and a 9 seed in the NCAA Tournament, where they lost a heartbreaker at the PNC Arena in Raleigh to the Tigers of Memphis.
It's time to restart and end the hibernation. Time to tip off a new century of basketball.
GW already played their exhibition match, an 89-47 blowout of Bloomsburg. Since Bloomsburg is a Division II squad, this was expected. The main takeaway from this game is it was a team effort. Six different Colonials (Patricio Garino, Kevin Larsen, Kethan Savage, John Kopriva, Darian Bryant, and Yuta Watanabe) scored ten or more points. Two of those players are freshmen. Yuta Watanabe is the reason you'll see the Japanese Rising Sun flag instead of the Serbian tricolor hanging off the front of student section bleachers. (Side note: Nemanja Mikic's graduated, so the "Kosovo is Serbia" signs are likely a thing of the past)
Let's look at each game one-by-one.
Grambling State
Grambling State finished a dismal 5-24 in the Southwestern Athletic Conference, with only 3 wins in the conference. GW would look absolutely terrible if they were to lose at home. Expect a fast and early lead for GW to develop and a good amount of playing time for the freshmen.
Rutgers
GW beat Rutgers at home. It'll be an intimidating building with Rutgers' home opener taking place for this game, but considering Rutgers' 12-21 record last year, it shouldn't be hard for GW to win this one. And GW will need as much momentum as they can get for the next matchup.
#9 Virginia
Yep, we're headed to Charlottesville this year to take on the Cavaliers in their barn. Last year, GW suffered an early loss to a ranked team last year as well when Marquette handled the Colonials in Anaheim at the Wooden Legacy, but the Colonials also managed to pick up an upset in the same circuit when they shut down Doug McDermott and the Creighton Blue Jays. Virginia's strength is in their defense, and playing on the road at a large state school. Despite GW's improvement over the last few seasons, it'll be a major upset if the Colonials walk out of Charlottesville victorious.
Longwood
Same as Grambling State and Rutgers, Longwood had a dismal record last year (8-24) in a smaller conference. This is the Wednesday before Thanksgiving, so expect a smaller crowd than usual at the Smith Center.
Seton Hall
Seton Hall raised some eyebrows when they beat Villanova last year on a buzzer-beater shot, but their final record was 17-17 and they finished with a 6-12 record in the conference. To be fair to the Pirates, the Big East is extremely difficult to compete in with powerhouses like Villanova, Creighton, and Providence.
UMBC
Expect a win, GW plays well against UMBC, beating them convincingly last year.
Charlotte
Two years ago, a young GW team showed a harbinger of what was to come when Charlotte, widely expected to handle the Colonials in DC, got thrashed by a final score of 82-54, back when the teams were both in the A-10. Charlotte has since moved to Conference USA, where they finished 7-9 in conference play and 17-14 overall. This is the BB&T classic game, played at the Verizon Center, where Maurice "Mo" Creek put away Maryland with a buzzer-beater nothing-but-net shot.
DePaul
DePaul was dead last in the Big East conference last year, at 12-21, winning only 3 games in conference play.
Penn State
Penn State's not usually known as a basketball school, but the Nittany Lions boast tremendous home-court advantage and they swept Ohio State (ranked #20 this year) as well. If the Colonials are unable to quiet down the crowd early, it could be difficult to come back, but GW stacks up well and should hold their own in hostile territory.
Ohio U.
Don't overlook this game just because it's the "lesser" Ohio state university. The Ohio Bobcats were 25-12 last year, and 11-7 in conference play.
VMI
VMI played to a very respectable 22-13 record last year but play in a relatively weak conference. GW should be favored in this game but must play carefully in order to avoid an upset. The game is at home, which should help the Colonials massively-they were 14-1 at the Smith Center last year.
St. Joe's
This will be the first conference game for GW and it's a challenge. St. Joe's started slow last year but looked very dangerous in the later parts of the season. GW played and beat St. Joe's in the one meeting of the teams, but it was a narrow win.
St. Louis
The Bilikens are rebuilding after losing a handful of seniors and GW came very close to beating last year's fantastic squad, which went into the A-10 tournament as the first seed.
La Salle
Last season, GW split the series with a mediocre La Salle team. This was a considerable disappointment because La Salle was a team that was beatable and the game ended on a questionable call.
Richmond
Richmond is a consistently good team, but not a consistently great team. GW narrowly won out against them last year on the road, and it was a much-needed win coming in the middle of the most difficult part of the season.
George Mason/Fordham
GW swept the Patriots and Rams last year, both of which were at the bottom of the conference in 2013-2014. These games are winnable and important to bolster GW's record.
Duquesne
Duquesne is slowly improving but should not pose a serious threat to GW as long as GW stays healthy and
#15 VCU
VCU was the unanimous favorite to win the Atlantic 10 this year and runs a devastating press. Coupled with a strong home court advantage, this is a team to be feared. Last year the Smith Center hosted a rocking win for the Colonials, but then GW got routed in Richmond later in the season.
URI
The last time GW played URI, the Colonials jumped out to a 35-9 lead early. They proceeded to go on cruise control after that and still won the game convincingly.
Dayton
Last year, GW lost badly to Dayton in Ohio, but that game saw three of GW's most important players absent from the court in McDonald, Savage, and Creek. Dayton started slow last year but then proceeded to go on a tear and into the Elite Eight, effectively becoming the Cinderella team in last year's tournament. Dayton will give us a fight but if we assume a healthy Colonials side, a win is definitely possible.
Davidson/St. Bonaventure
Davidson, the newcomer to the conference, is not expected to do much this year. St. Bona is still a solid team, but the home court they had in the close game against GW last year won't be there to help them
UMass
UMass is a consistent force in the A-10 but it's yet to be seen whether the team will have the same fire they did against the Colonials last year-star player Chaz Williams is no longer with the Minutemen.
Likely Wins:
Davidson (2)
St. Bonaventure
URI
Duquesne (2)
Mason (2)
Fordham (2)
Grambling State
Rutgers
Longwood
UMBC
Charlotte
VMI
St. Louis
Ohio
Toss-Ups
Penn State
Dayton
Seton Hall
St. Joe's
UMass
Richmond
Tough Match-Ups:
UVA
VCU (2)