Left-leaning parties in the United States and United Kingdom have recently seen controversy over remarks made by representatives that some deem Antisemitic.
In the United States, Congresswoman Ilhan Omar of Minnesota's 5th Congressional District has made numerous remarks which have raised alarm among Jewish Americans which have caused the Democratic party to wrangle with two questions.
Were Congresswoman Omar's remarks antisemitic? And how should they be addressed?
In the United Kingdom, a similar controversy refuses to go away, but rather than stemming from a newly elected representative, the controversy comes from the top, centered upon the Leader of the Opposition and the Labour Party, Jeremy Corbyn. The Labour Party has seen 8 of its Members of Parliament resign from the party in recent weeks, many citing the party's "institutional anti-semitism" as one of their reasons for leaving.
What caused this controversy in the first place? Let's start in the United States.
Congresswoman Ilhan Omar is a naturalized citizen, a Somali-American, Muslim refugee who represents Minnesota's 5th Congressional district, which covers parts of Minneapolis and its suburbs. It was the seat once held by former Congressman and current Minnesota Attorney General Keith Ellison, who was first elected to the seat in 2006.
Congresswoman Omar has made three comments that have invited controversy.
The first was a tweet she made on November 16, 2012, which read as follows: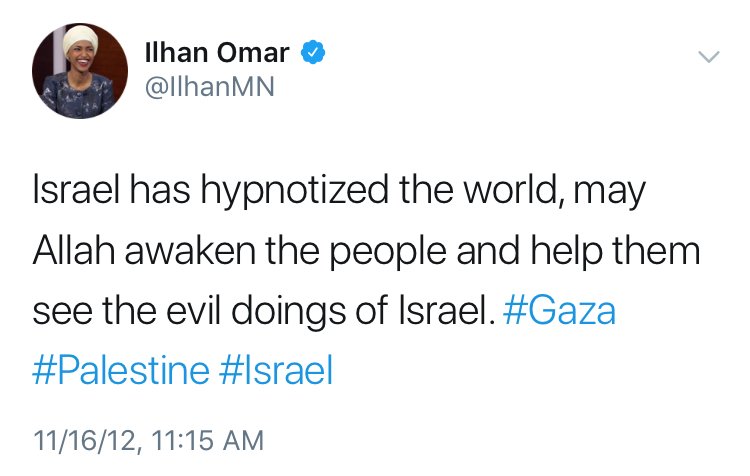 This tweet came into the spotlight as Omar was elected to the House of Representatives in November 2018. It was widely criticized as alluding to the old antisemitic stereotype and conspiracy theory that Jews have a disproportionate, secretive and even malicious influence over world affairs. While the tweet does not explicitly mention Jews, it does mention Israel, a country which defines itself as a "Jewish and democratic state".
Omar initially defended her 2012 tweet, claiming that "I don't know how my comments would be offensive to Jewish Americans. My comments precisely are addressing what was happening during the Gaza War and I'm clearly speaking about the way the Israeli regime was conducting itself in that war."
However, she later backpedaled after her comments were criticized by New York Times columnist Bari Weiss, apologizing for "not disavowing the anti-Semitic trope I unknowingly used".
The second comment Congresswoman Omar made references a Puff Daddy song. Omar was criticizing the influence of the American Israel Public Affairs Committee, claiming in a roundabout way that money was the chief motivator behind American support of Israel. She referenced the song "It's all about the Benjamins" ("Benjamins" refers to US $100 bills, which depict Benjamin Franklin)
Again she was criticized, this time for skirting the stereotype that a predominantly Jewish group was buying off Americans in exchange for supporting Israel. She apologized relatively quickly, saying " "I am grateful for Jewish allies and colleagues who are educating me on the painful history of anti-Semitic tropes...I reaffirm the problematic role of lobbyists in our politics, whether it be AIPAC, the NRA or the fossil fuel industry"
Recently, Congresswoman Omar made a third comment that caused alarm. While speaking at a bookstore, Omar claimed that "I want to talk about the political influence in this country that says it is OK for people to push for allegiance to a foreign country."Again, a reference to Israel, and again, a remark which some claim skirts antisemitism by suggesting Jewish Americans are loyal to Israel, not the United States. Omar has not yet apologized for this statement.
The Democratic Party passed a resolution after Omar's "Benjamins" tweet condemning antisemitism and may do so again. However, some in the party have rallied to Omar's side, pointing out that criticism of Israel is not necessarily antisemitic and that Islamophobia has motivated some of the criticism against her.
Over in the UK, the Labour Party is run by a man named Jeremy Corbyn, a member of Parliament from Islington North, a constituency in London.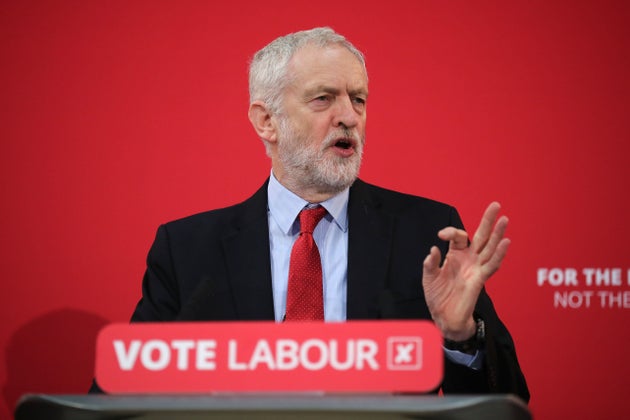 Corbyn's political career has spanned for much longer than Congresswoman Omar's. He was first elected to the House of Commons under Labour's banner in 1983, and has been in Parliament since. He became leader of the Labour Party after the 2015 resignation of its former leader, Ed Milliband, in 2015.
His allegations of antisemitism are also longer and more illustrious than Omar's.
In 2010, Corbyn co-chaired a meeting in the House of Commons where a Holocaust survivor and Anti-Zionist political activist named Hajo Meyer spoke. Meyer compared Israel's actions to the Nazis and claimed that "Judaism in Israel has been substituted by the Holocaust religion, whose high priest is Elie Wiesel." Corbyn defended his attendance at the meeting by saying "Views were expressed at the meeting which I do not accept or condone. In the past, in pursuit of justice for the Palestinian people and peace in Israel/Palestine, I have on occasion appeared on platforms with people whose views I completely reject. I apologise for the concerns and anxiety that this has caused".
In 2011, Corbyn was one of several MPs, mostly from the Labour Party, to sign a proposed motion to rename "Holocaust Memorial Day" to
"Genocide Memorial Day"
. Karen Pollock, chief executive of the Holocaust Educational Trust said that "Any attempt to remove that specificity is a form of denial and distortion." The Labour Party responded, saying "this was a cross-party initiative, jointly sponsored by a senior Conservative MP, to emphasize the already broader character of Holocaust Memorial Day. It is not our policy to seek a name change for this important commemoration".
In 2012, a mural was painted in East London by an American artist named "Mear One" entitled
"Freedom for Humanity"
. The mural strikes a conspiratorial tone and skirts the antisemitic trope of Jewish bankers having control over the world. The mural was removed, and Corbyn made a comment on facebook complimenting the artist. This provoked more complaints, and Corbyn apologized, claiming that once he took a closer look at the mural, he saw the antisemitism depicted.
Corbyn also attended a
wreath-laying event in 2014
where the Palestinian victims of a widely-condemned Israeli airstrike in 1985 were remembered.
Close to where he attended the ceremony
(he did not actually place a wreath, he was simply in attendance) were the graves of two people accused of involvement with the Black September group, which massacred members of the Israeli Olympic Team during the Olympic Games in Munich.
He also attended a Passover Seder with a Jewish group recently, which would theoretically combat the accusations of antisemitism, if it wasn't organized by a far-left group which agrees that the allegations of antisemitism against Corbyn were a political plot against him. Regarding Israel, the "Jewdas" group claims the country is a
"a steaming pile of sewage which needs to be properly disposed of".
The sad part is that Congresswoman Omar is no stranger to religion based prejudice. Recently, "
Assassinate Ilhan Omar
" was found scrawled in a gas station bathroom in her Congressional district. An outrageous mural was hung in West Virginia's State Capitol building erroneously
linking Omar to the attacks on September 11th
, a clear reference to her being a Muslim. She has in the past recalled Islamophobic abuse that has been hurled at her as a girl growing up as she regularly wears a hijab.
Supporters of Corbyn and Omar repeat popular refrains, which, while not necessarily false, sometimes lack context.
One of the loudest refrains is that of "Criticism of Israel is not antisemitic!"
They're right. Criticizing Israel is not necessarily antisemitic. There are plenty of criticisms one can make of Israel's political decisions under Prime Minister Benjamin "Bibi" Netanyahu without being antisemitic.
Omar's criticisms, however, in addition to being controversial, also seem somewhat poorly thought out. If she's making them out of genuine concern about the Israel-Palestine conflict, that's fine, but this is an incredibly sensitive topic and while plenty of reasonable criticism exists, there are lines that Omar should be careful not to tread upon.
An example of criticism of Israel which is
NOT
antisemitic could look something like this:
"Israel should freeze settlement construction immediately and get back to the peace negotiating table. The conflict with Palestine has gone on for far too long and both countries are going to need to make some concessions and admit some fault if they are to acheive a long-lasting peace."
Let's examine the "Benjamins" quip. "It's all about the Benjamins, baby" is a reference to US$100 bills, and it's not unusual for politicians to complain about the influence of money in democracy, especially self-proclaimed democratic socialists. Perhaps Omar was trying to be clever by referencing Puff Daddy lyrics. Jokes about money, wealth, and financial stinginess are a touchy subject and one of the oldest stereotypes in the book about Jews.
For instance, had she made that sort of joke about the two front-runners in the upcoming Israeli election, who are both named Benjamin (Benjamin Netanyahu and Benjamin "Benny" Gantz), this may have been seen as a clever, funny remark.
And the other side of the political spectrum is not at all immune from this same perceived prejudice. Antisemitism is not just present but
rampant
among the rise of the nationalist right. Hungarian Prime Minister Viktor Orban can't seem to go two sentences without babbling about George Soros. The Alternative For Germany party constantly sticks its foot in its mouth while referring back to World War II and the Holocaust. The geriatric former leader of France's National Rally (formerly the National Front) party is still around and he's a Holocaust denier. President Trump once claimed that a white supremacist rally where they chanted "Jews will not replace us" had some "very fine people" and once said that "The only kind of people I want counting my money are short guys that wear yarmulkes every day. Those are the kind of people I want counting my money. No one else."
I don't know if Ilhan Omar is antisemitic. I've never met her, I have never been able to sit down and talk to her.
Her remarks, however, are at best insensitive and ignorant to the context of antisemitism. If she doesn't want to be accused of antisemitism, she needs to choose her words more carefully. If she continues to make remarks in the fashion she is doing so now, she is not going to help her own cause.
As for Corbyn, the overwhelming feeling I get from reading about him, his past actions and his relationship with British Jews is above all, indifference. His apologies are present, but flimsy. He doesn't seem to properly vet the demonstrations he plans to attend in context of the wreath-laying. And right as you'd think he may have made an important step to reach out to the community he has such strained relations with by partaking in one of their most important and sacred holidays...he goes to an event which demonstrates open contempt - not criticism, but contempt and maybe even hatred - for Israel. Above all, whether he's antisemitic or not, I don't think he
cares
whether he's accused of it or not. And now he's losing members of his own party.